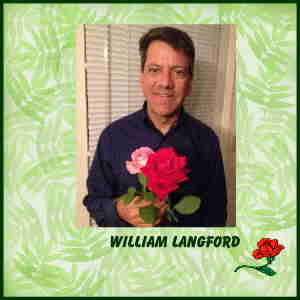 Bill joined the Greater Palm Beach Rose Society about 20 years ago. At the time he had 5 hybrid tea rose bushes and needed to learn how to keep the blackspot and bugs under control. Little did he know that he would end up serving many years on the Board, including stints as 1st and 2nd vice president and president. Along the way he became a Consulting Rosarian, and a few years later, an accredited ARS horticultural rose show judge.
He has been editor of the newsletter, The Rose Petal, since 2009. He currently has about 45 rose bushes in his garden. About a dozen of those are planted in the ground, but the majority are in pots. Believe it or not, after 20 years, he says, "I am still learning!"
You can contact Bill at WHL2@prodigy.net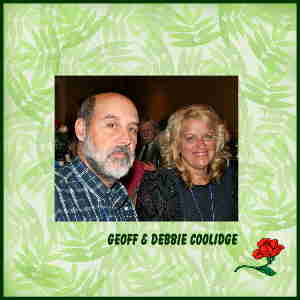 Geoff and Debbie Coolidge have both been growing roses since the early 80″s. They joined the local rose society in West Palm Beach. From their there hobby became there passion. They have held numerous positions on the board of the Greater Palm Beach Rose Society, and both became Consulting rosarians for the American Rose Society. Eventually their passion became a business. They are the owners of Cool Roses, which carries a wide varieties of roses grafted on fortuniana rootstock and antique roses. They also maintain private gardens throughout Palm Beach County. Debbie is also a accredited judge in horticulture and arrangements for the American Rose Society.
You can contact either Geoff or Debbie at geoffcoolidge@comcast.net
Comments
I was buying bare root roses every spring, but it did not take long for them to turn black under all the wax. I found out those roses were on Dr. Huey and not meant to really be grown down here. Now I purchase roses on Fortuiana rootstock grown locally and my roses look beautiful all year long. Thanks. Rachel C.
| | |
| --- | --- |
| | I was growing antique roses and bought some plants from up north, but they never bloomed. After contacting the rose society, I found out that certain roses need a dormancy period or they will never bloom I learn something everyday. Thanks Michele O |